You've read Building a StoryBrand by Donald Miller or listened to the Marketing Made Simple podcast. Everything you've learned from Don and his colleagues about inviting your customer into a story and making them the hero of that story makes sense. You're in.
Now you're trying to decide whether to implement the StoryBrand (SB7) framework on your own or hire a Certified StoryBrand Guide.
If you've never worked with a marketing consultant or agency before, you may not have a frame of reference for what it costs. On the flip side, you may have spent tens of thousands with marketing agencies in the past and not gotten a return on your investment.
This article aims to paint as complete a picture as I can of how much it costs to work with a Certified StoryBrand Guide and what factors impact the cost. 
Before we talk dollars and cents, let's take a quick detour to chat about marketing costs vs. investment.
Marketing is an Investment, Not a Cost
Toilet paper, office supplies, and insurance are all costs you incur to operate your business. They aren't directly associated with revenue coming in the door.
Marketing, on the other hand, should be an investment. It should always be associated with more dollars in your bank account. And those extra dollars coming in as a result of your marketing should be more than what you paid for the marketing. 
Smart marketing gets a return on investment.
Keep this in mind when you start seeing dollar amounts in a few paragraphs.
The kind of questions you should ask yourself when considering the quote for whatever marketing services you're looking at, from a Certified StoryBrand Guide or otherwise, are things like:
How many products or services do I need to sell to get a return on this marketing investment?
How quickly do I need to see a return on investment?
How much is my time worth in the context of my business? (i.e. When does handling something in-house make sense, and when is your time spent better elsewhere?)
What's the opportunity cost for me or my team to try and implement StoryBrand on our own?
As I dive into the specifics of what kind of investment you can expect when working with a Certified StoryBrand Guide, there's something you should know.
Certified StoryBrand Guides Follow a Minimum Pricing Guide
Does this mean all StoryBrand Guides charge the same thing for a Brandscript, website wireframe, or email sales sequence? No.
As with any customized service, you're rarely comparing apples to apples. Pricing will vary from Guide to Guide — sometimes considerably.
The pricing minimums mean that as Certified Guides, we are required to charge a minimum for the standard StoryBrand deliverables (Brandscript, One Liner, website wireframe, lead generating PDF, email sequence, sales letter).
After reading through the price ranges below you can be confident your investment expectations are realistic when you begin the process of choosing the best-fit StoryBrand Guide for your business.
Several factors impact what you will invest. The following are some of the most common. 
Factors that Impact Your Investment
The deliverables you get are the most obvious factors that impact what you can expect to invest to implement the StoryBrand (SB7) framework. A 50-page website will cost more than a simple 5-page website.
If you get standard StoryBrand messaging (Brandscript and One Liner), that will be less than adding in a marketing plan and implementing your new, clear message in all your marketing material.
Done for You vs. Done with You Services
Most StoryBrand Guides offer different levels of service.
Done for you services is just what it sounds like.
The Guide will spend time understanding your business, customers, and offerings. Then they will write your Brandscript and all the other content you need to implement your clear brand message throughout your marketing assets and activities.
This works well if you don't have the capacity (time or skill set) within your team to create the content needed for your website, sales funnel, and other foundational marketing assets.
Done with you services is akin to a coaching relationship.
You do all the writing required to implement the SB7 framework with feedback and direction from a Guide. They will help make sure you're doing it right, but you will have all the "homework" to create the content for your website, sales funnel, and any other marketing materials needed.
Here at Acorn, we work with clients in both capacities – done with you and done for you.
If your cash flow is limited and you have the time and willingness to learn, the done with you option might be a great fit. Just keep in mind the questions I posed earlier.
What's the opportunity cost of you writing content for your company? Is there another revenue-generating activity you're better suited for?  
On the other hand, if you have a marketing team capable of creating that content with the help of someone to guide the strategy and offer feedback, the done-with-you option might be the perfect fit.
That decision is driven mainly by what stage your business is in and what resources you have available. Getting clear about the best use of your available resources can help you decide what kind of engagement you're looking for when hiring a Certified StoryBrand Guide.
What you can expect to pay for basic StoryBrand messaging
If you're familiar with StoryBrand, you probably know that basic StoryBrand messaging includes a Brandscript and One Liner.
The Brandscript answers the seven questions in the SB7 framework and forms your foundational brand story. 
A One Liner is the shortest form of your brand story that clearly answers the question, "What do you do?" while positioning your offer as a solution to a problem.
Baseline pricing for a Brandscript + One Liner is $1500. 
While some StoryBrand Guides offer these as stand-alone deliverables, many (myself included) bundle them with additional services for a more comprehensive brand strategy and a marketing plan.
Here's why. Although a clear brand message in the form of a Brandscript and One Liner is powerful – unless you understand how to implement it into your marketing and sales assets, you won't get results.  
The additional services often bundled with brand message development (Brandscript and One Liner) provide essential context and a roadmap to help you implement your clear, StoryBranded message to get a return on your investment.
These more comprehensive brand strategy and marketing plan services typically fall in the $3500-$5500 range.
If your company has a wide range of product or service lines or wants to spend an entire day or two in person with a StoryBrand Guide to craft your brand message and marketing strategy, you can expect to invest $10-15k.
Once you have your brand message dialed in, you won't see results until you implement it into your marketing assets. That often starts with a website update.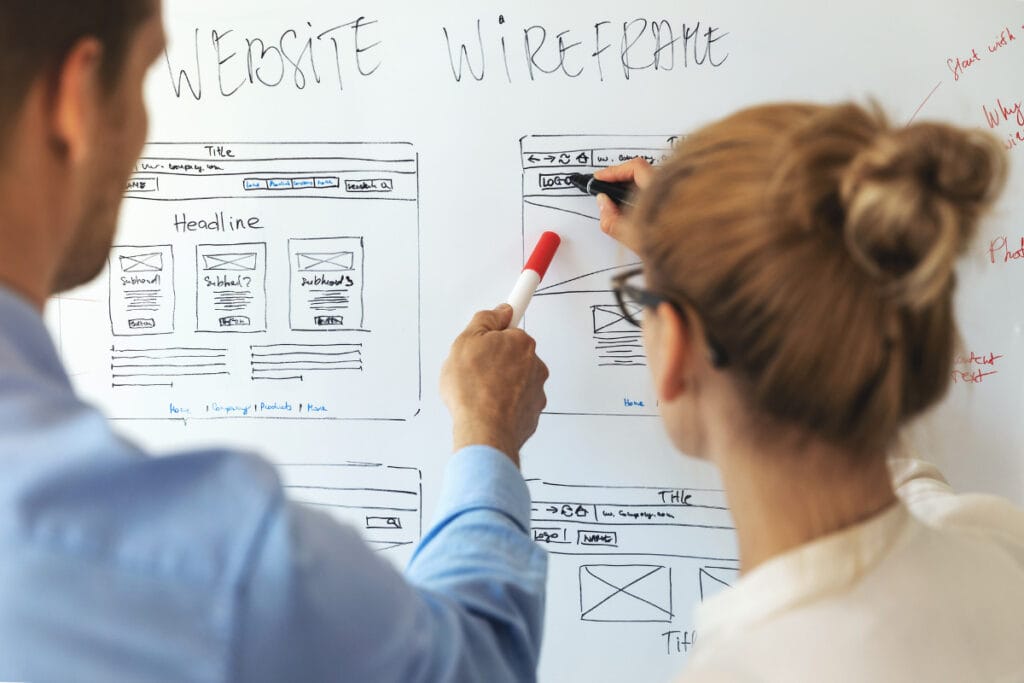 How much does a StoryBrand website cost?
Everything from the number of pages to your site functionality needs will impact what you will pay for your new or updated website.
Because there are so many factors that impact price, the possible range of what you can expect to invest is quite broad.
I'll focus on a basic brochure site as a baseline. These sites usually include 5-10 pages and don't require special functionality besides a form and some embed code for a scheduler or video.
There are three main components to a high-converting website. 
Content (Words + Images + Video): Effective copywriting is where your Brandscript is transformed into the words on your website that will compel visitors to become customers. In addition to the words on your site, images and video are an important element to show how you can solve your customers' problems, not just tell them.
Design: Great design brings the words on your site to life, so your visitors easily find what they're looking for and actually read those words.


Web Development: This is when all your content and design are built into a functioning website on the world wide web. 
Here's the thing — it's not uncommon to find someone that's good at copywriting and design. Or someone that's good at design and website development. 
It's rare to find one person that does all three of these things really well.
Why do I tell you this? Because it's helpful to understand that to implement your Brandscript onto your website effectively, it will likely require more than someone who has heard of StoryBrand and knows how to build a nice-looking website.
If you want a website that makes you money, be sure you account for each of these skills when deciding to build or update your website with your clear brand message.
So what should you expect to pay for a StoryBranded website?
First, let's look at your website content and page layout.
Copy + Page Layout = Website Wireframe
Once you have a solid Brandscript in hand, you can expect the wireframe of your homepage to start around $2500. This also usually includes mapping out your header and footer navigation which will apply throughout your site.
Additional wireframed pages will likely range between $250-$1000 per page, depending on whether it's a simple contact page, a mid-sized About page, or a long-form sales page.
Once you have your wireframes, those will need to be turned into your working website by a web designer or developer.
Website Design & Development
Again, let's assume you're planning for a simple brochure website with 5-10 pages. If you're ok with having your site built from a template — a great option for small businesses — then you can expect to invest $1800-$4500 on website development. 
If you have more than 5-10 pages and need more custom functionality, expect your website development investment to start in the $5500 – $10,000 range and go up from there. 
If you need e-commerce functionality, expect to invest in the higher range of what I've listed for a small (10 products or less) e-commerce site.
Total Website Investment
If you're doing the math, you see that for excellent copy, design, and web development for a simple brochure site, you can expect your investment to start in the $5000-8500 range.
For a more robust site, anticipate your investment starting in the $8500-10,000 range for copy, design, and development.
I know this is a wide starting range for website pricing, but hopefully, it gives you some anchors to start from.
Once your foundation is set with a clear message applied to your website, the next step is to build out the rest of your sales funnel — a lead generator and email sales sequence.
How much does a StoryBrand sales funnel cost? 
A lead generator in the context of StoryBrand is something of value you offer for free in exchange for a lead's email address. Once you give the lead the free resource, you can nurture them toward the sale via email.
The cost of a lead generator
Lead generators can take many forms. A few examples include educational PDFs, videos, quizzes, online courses, discount codes, and assessments.
Since the format of lead generators vary widely, so does the cost. What you invest will depend on what you and the StoryBrand Guide you work with determine is the best type of lead generator for your business and target audience.
Generally speaking, expect your investment to start at $2500 for the copywriting and design of a lead-generating PDF.
Quizzes, assessments, and videos require more production and will generally cost more than a PDF. 
You will need a landing page on your website that "sells" your lead generator and includes email capture. Be sure to ask your Guide if landing page copy is included with the lead generator creation. At Acorn, we include landing page copy with the lead generator, but not everyone does.
The Cost of a StoryBranded Email Sales Sequence
A sales funnel is most effective when you use email to nurture your new lead toward the sale. This is where a well-written email sales sequence can make or break the success of your funnel.
A standard StoryBranded email sales sequence includes 5-7 emails. The typical investment for one of these email sequences starts at $3000. 
After your initial sales sequence, your Guide will help you determine the ideal cadence and content to keep nurturing your email list each month.
Note that your email sequence automation will need to be set up in an email service provider (ex. Mailer Lite, ActiveCampaign, ConvertKit, Hubspot) for it to be delivered to your new leads.
If you don't already have an email service provider, your StoryBrand Guide should be able to help you solve that.
The Total Investment to Implement a StoryBrand Sales Funnel
If you've been doing the math, you should have come up with $12,000 – $15,000 as the starting investment to work with a StoryBrand Guide to develop a sales funnel that includes:
Your Brand Message (Brandscript + One Liner using the SB7 framework)
A website that reflects your brand message
A lead generating asset
A 5-6 email sales sequence
Although many factors impact what you will invest, hopefully, this gives you a solid starting point on what to expect to invest when working with a Certified StoryBrand Guide.
If you're still on the fence about whether to work with a Guide or implement the StoryBrand framework on your own, here are some alternative next steps: 
Attend the 2-day StoryBrand Livestream Workshop for $997 where you will get coaching from a Certified Guide while developing your Brandscript and One Liner. I often coach a group during these workshops. Email me if you'd like to join my group at the next one.
Take the StoryBrand online course on Business Made Simple. ← That link will give you a 7-day free trial. After that it's $275/year for access to all their courses.
Reach out to several Guides via the Guide Directory to see if their services are a good fit for your needs.
Regardless of what path you take to implement StoryBrand into your marketing, the most important part is that you actually implement it. The more you apply clear messaging throughout your marketing, the better your results will be.